Have you ever thought to upgrade your Russian vocabulary and speak more intelligently? Looks like YES. Otherwise you'd never search for an article like this.
Russian phrases
can be so different and have lots of variations of how to say this and that. Even if the meaning of the Russian phrases can be the same to each other – the way you say them and how you stress the accent can be totally different. You can be very polite, old fashioned or modern and young. In the same you speak in your native language and people can think of you as a smart and intelligent person or you can sound like an incompetent idiot who barely gets any points across.
Nevertheless, you probably have been more concerned about Russian grammar all the time trying to improve the way of sentence building but even despite the importance of using correct grammar you always have to pay attention to the vocabulary that you use. And most importantly the context of ideals and words applied to the construction of the Russian sentences.
We took care to compile a useful list of Russian phrases that you should use for your trip to Russian speaking countries.
Learn each of the Russian phrases from the categories we have created for you.
Russian Phrases | In the Restaurant
Russian Phrases | Shopping Phrases
Russian Phrases | Perturbation and sharp response, criticism
Russian Phrases | How to say Russian "Goodbye" in a polite way
Russian Phrases | Business Relationships and Negotiation
Russian Phrases | For Your Travel
Russian Phrases | Information and Alert Signs
Russian Phrases | Compliments and Kind words
Russian phrases | Recourse and question
Bonus+ 25 Must-Know Slang Phrases in Russian language
Russian Phrases | In the Restaurant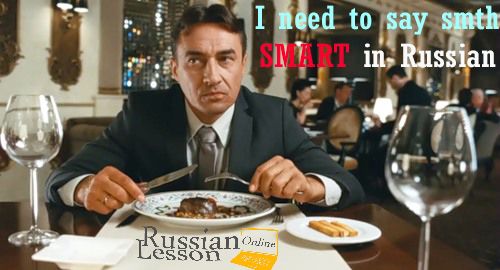 We thought you may need to know what and how to say things in places like restaurant or coffee shops. So here is the GREAT list of Russian phrases that you can learn and use for your daily conversations. People will think you are a smart and elegant person with highly distinguished Russian etiquette. Here is an excellent list of Russian words that won't leave others indifferent to your knowledge level of the Russian language. Use them more often:
Я бронировал (а) столик на двоих на имя Антон. – I booked a table for two under name Anton.

Подскажите, пожалуйста, где находится уборная? – Please tell me where is the restroom?

Не могли бы вы принести меню мне и моей даме? – Could you bring the menu to me and my lady?

Отнюдь! Я знаю толк в хорошем виски. – Not at all! I know a lot about good whiskey.
Посоветуйте, какое вино наилучшим образом подходит под этот стейк из говядины? – Please, could you recommend a good wine for this beef steak?

У вас есть вегетарианские блюда? Что бы вы посоветовали? – Do you have vegetarian dishes? What would you suggest?

Я буду кофе с молоком и десерт. На ваш вкус. – I would like coffee with milk and dessert. To your taste.

Что бы вы порекомендовали попробовать в вашем ресторане? – What would you recommend to try in your restaurant?

Посоветуйте, какой соус подходит под этот стейк из баранины? – Advise what is the best sauce for this lamb steak?

Мы бы хотели заказать блюдо из телятины под вишнёвым соусом. – We would like to order a dish of veal under cherry sauce.

Какие ингредиенты входят в состав этого блюда? – What are the ingredients of this dish?

Я буду признателен (а), если вы подогреете это блюдо еще раз. – I will appreciate it if you heat this dish one more time.

Бармен! Стакан воды и лёд, пожалуйста. – Bartender! A glass of water and ice, please.

Подскажите, пожалуйста! Какой пароль на вашем вай-фай? – Tell me, please! What is your Wi-Fi password?

Меня интересует, можно ли в вашем ресторане курить? – I am interested in whether it is possible to smoke in your restaurant?

Официант! Можно счёт, пожалуйста? – Waiter! Can I have the bill, please?

Могу ли я оплатить по счёту свой кредитной картой? – Can I pay the bill with my credit card?

У вас есть дисконтная карта нашего ресторана? – Да конечно. или Нет, к сожалению. – Do you have a discount card of our restaurant? – Yes of course. or No, unfortunately.

Благодарим, всё было превосходно. – Thank you, everything was excellent.

Не могли бы вы вызвать для нас такси? – Could you arrange a taxi for us?
Russian Phrases | Shopping Phrases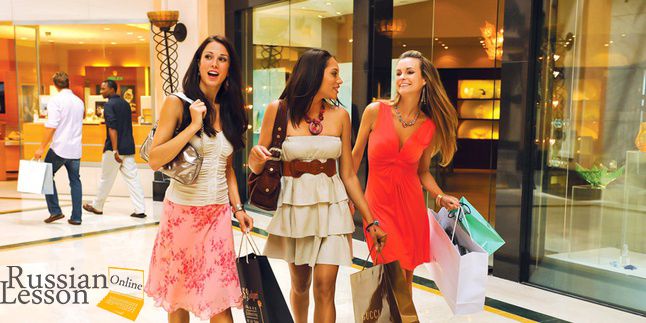 Did you have experience in shopping in Russia? Or maybe you thought what it would be like? Do you think you will have problems speaking Russian language or are you totally reliant on your native language? What we can tell you for sure is that not all places have English speaking employees. You may need to exercise your Russian speaking skills to explain what you want and what you are ready to pay for it. We made a list of Russian phrases that will improve your vocabulary and increase your understanding of the workers in any shop of Russia or Post Soviet area. Please study those phrases and use them every day for better memorization:
Вы знаете, сколько это стоит? – Уточните, пожалуйста. – Do you know how much it costs? – Please clarify.
Это же дорого! Я не готов (а) за это столько платить. – It's expensive! I am not ready to pay so much for it.

Торг уместен? Может, поторгуемся? – Bargaining is appropriate? Maybe we will bargain?

Какая ваша последняя цена? – What is your last (best) price?

Я готов (а) заплатить за это 30 долларов. Это моя крайняя цена. – I am ready to pay 30 dollars for this. This is my best price offer.

Могу ли я рассчитывать на дисконт? – Can I count on a discount

Превосходный пиджак! Тебе стоит его приобрести! – Excellent jacket! You should buy it!

Прошу прощения. Вы не могли бы уточнить какой размер этого платья? – I beg your pardon. Could you please clarify what size of this dress?

В каких ещё расцветках есть такое платье? Или это единственный экземпляр? – What other colors have such dress? Or is it the only one left?

Хочу быть уверенным (уверенной), что в этом мне будет тепло. – I want to be confident that in this I will be warm.

Эти туфли на меня немного малы. У вас есть такие же, но на один размер больше? – These shoes are a bit small on me. Do you have the same, but one size bigger?

Кажется, этот товар имеет брак. Есть другой в наличии? – It seems this product has a defect. Is there another available?

Мне нужна консультация по вопросу… – I need advice on the issue…

Я бы хотел (а) померить этот костюм. Где это можно сделать? – I would like to try on me this costume. Where can this be done?

Не могли бы вы посоветовать, какой кофе лучше всего выбрать? – Could you advise which coffee is the best to choose?

Подскажите, пожалуйста, этот товар свежий? До какого числа он годен? – Tell me, please, is this product fresh? How long is it suitable?

Могу ли я вас попросить, взвесить пару килограмм красных яблок? – Can I ask you to weigh a couple of pounds of red apples?

Как на ваш взгляд, этот фрукт уже спелый? – How do you think, is this fruit already ripe?

Будьте так добры! Один пакет для моих продуктов. – Be so kind! One package for my products.

Вы принимаете оплату наличными или кредитной картой? – Do you accept payment by cash or credit card?
Russian Phrases | Perturbation and Sharp Response, Criticism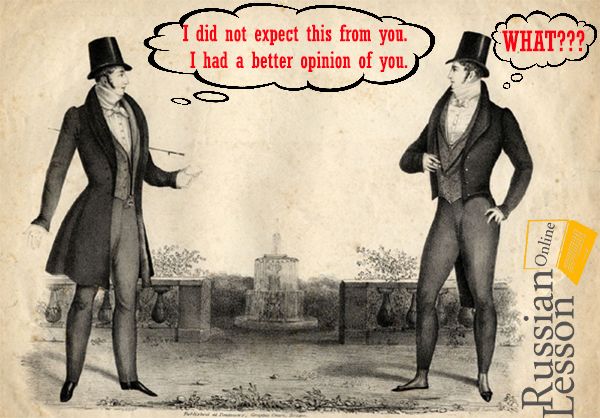 We do know you are a gentleman and educated person. And we are absolutely confident that you'd never let yourself go crazy and get mad at someone for wrong reasons. As an intellectual and self-confident person, you would rather give sharp and quick response on any bad actions from your critic or stranger. But not say obscene words or even worst, punch him in the face. Here is the list of Russian phrases with smart and highly intelligent responses for different situations and circumstances. You say the right phrase in a specific moment and your critics will understand that you are strong in your convictions and will fight for your rights and smart enough to control the situation while avoiding conflict. Learn those phrases well and save the web link somewhere to make sure you can repeat them if you have a need.
Секундочку! А вы уверены, что это правда? – Wait a second! Are you sure this is true?

Понимаете, что вы испортили всем настроение своим поведением? – Do you understand that you spoiled the mood with your behavior?

Уважаемый, смените ваш тон при разговоре со мной. – Dear, change your tone when talking to me.

Я испытываю некий дискомфорт, отвечая на ваши вопросы. – I feel some discomfort when answering your questions.

В данной ситуации, мне кажется, что вы не правы. – In this situation, it seems to me that you are wrong.

Вам бы руки оторвать за такую работу! Всё не правильно и вы должны это переделать. – You have to tear your hands for such work! Everything is not right and you have to redo it.

Я не ожидал (а) от вас такого. Я был (а) лучшего мнения о вас. – I did not expect this from you. I had a better opinion of you.

Ты не в курсе всех событий и не может утверждать, что именно так и было. – You are not aware of all events and cannot argue that this is exactly what happened.

Вам следует чательнее подбирать слова, молодой человек! – You should choose words more carefully, young man!
Не стоит прибегать к оскорблениям. Мы с вами взрослые люди. – Do not use insults. We are adults.

Я вас прекрасно слышу! Незачем повышать голос на меня. – I can hear you perfectly! There is no need to raise your voice at

Вы что совсем выжили из ума? Я битый час твержу вам одно и тоже. – Are you completely out of your mind? For a long time I said the same thing to you.

Я меньше всего ожидал (а) от вас такого. Я больше не намерен (а) вас слушать. – I least expected this from you. I am not going to listen you.

У вас своё мнение, а у меня своё! И споры тут излишни. – You have your own opinion, but I have my own! It's unnecessary to argue. (Or people can say: "Everyone has their own opinions" )

Извините, но в данной ситуации, вы поступаете не красиво. – Sorry, but in this situation, you behave inappropriately.

Вы меня просто не слышите. У меня нет причин менять свою точку зрения. – You are not listening to me. I have no reason to change my mind.

Простите, но я так не считаю. И я так не говорил. – Sorry, but I do not think so. And I did not say that.

Думаю, на этой ноте нам стоит расстаться. – I think on this issue (point) we should break up.

У меня создаётся впечатление, что вы настроены агрессивно по отношению ко мне. – I have the impression that you are aggressive towards me.

Успокойтесь! – Calm down!
Russian Phrases | How to say Russian "Goodbye" in a polite way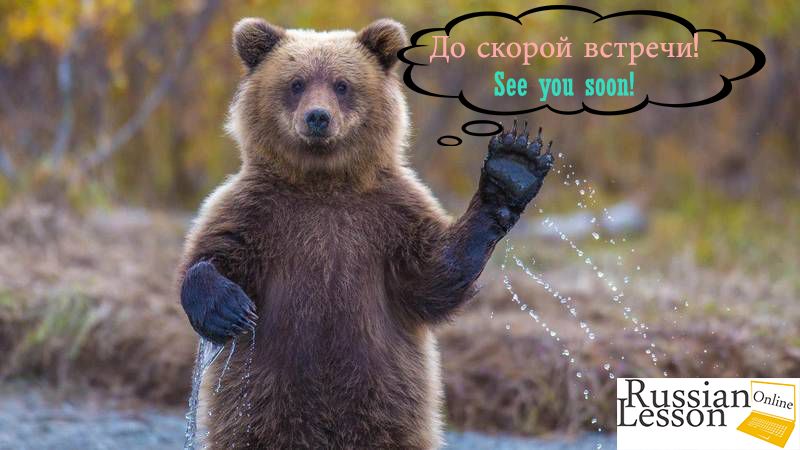 Who wouldn't say that Russians are very polite people. You might face moments where you can't just say "goodbye" to your friends or colleagues at work. Because, you got invited to their home. They are happy to have you as a guest and share friendly moments with you over a cup of tea or coffee. They are talkative and easy to get along. They would never say: "the evening is over". So that's why you'll need this amazingly helpful list of Russian phrases that can bring to you some ideas of how to avoid misunderstanding and help you to finish the nice conversation and actually say "goodbye" in much pleasant manner.
С огромным удовольствием посидел (а) бы еще за приятной беседой, но, сами видите, мне нужно работать дальше. – I really enjoy the conversation, but I really need to get back to work.

К сожалению, нам пора идти. Приятно было пообщаться. – Unfortunately, we have to go. It was nice to speaking with you.

Всего доброго. Увидимся завтра в 7 часов вечера. – All the best. See you tomorrow at 7 o'clock in the evening.

Мы не говорим «прощай» – мы говорим «До свидания». – We do not say "goodbye forever" – we say "goodbye for now".
Нам всё же пора уезжать. Спасибо за вкусный ужин. – We still have to leave. Thank you for the delicious dinner.

Мы не хотим обременять вас своим присутствием и поэтому уже уходим. – We do not want to trouble you any longer, we are going to leave.

Кажется, уже совсем поздно и лучше перенести наш разговор на завтра. – It's late, let's talk tomorrow.

Спасибо за тёплый приём. Мы будем так же рады видеть вас у себя в гостях. – Thank you for the warm welcome. We are glad that you are visiting us.

На улице стемнело и нам лучше собираться домой. Уже довольно поздно. – It's getting dark now, we'd better be going home. It's quite late now.

До скорой встречи! – See you soon!
Russian Phrases | Business Relationships and Negotiation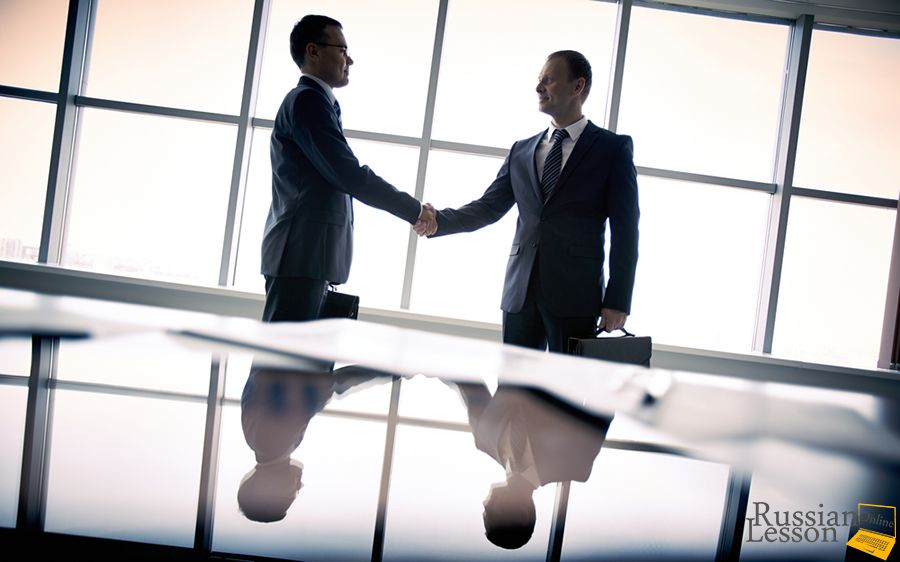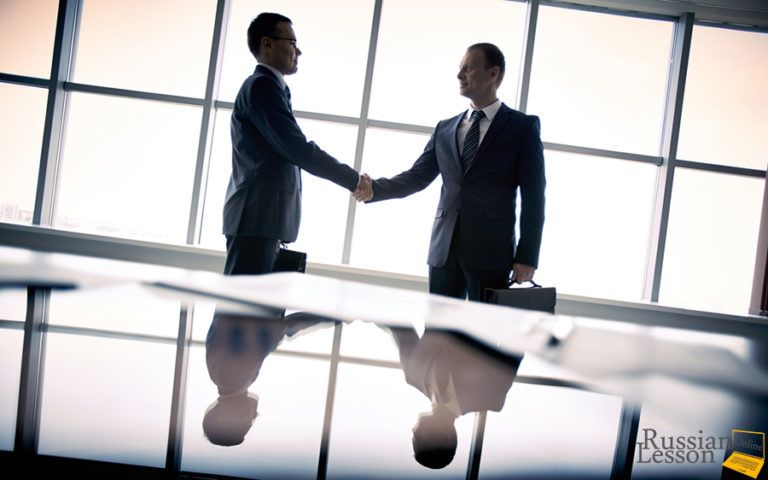 If you are doing business in Russia or working with Russians, then this following list of Russian phrases will help with business terminology. It is also helpful if you are preparing for negotiations or submitting your resume to Russian-based company where it's the main requirement to speak in Russian. Learning this list like the back of your hand will give you a vast vocabulary of business lingo and improve your Russian negotiaion skills incredibly.
И так, давайте подведём итоги наших переговоров. – So, let's summarize our negotiations.

Мне чрезвычайно приятно отвечать на ваши вопросы. – I am extremely pleased to answer your questions.

В полдень, у нас с вами запланированная бизнес встреча. – We have a scheduled business meeting with you at noon.

Я очень надеюсь, что мы не опоздаем на семинар, который начнётся буквально через час. – I really hope that we will not be late for the seminar, it will start in just an hour.

Всегда приятно вести бизнес с надёжными партнёрами. – It is always nice to do business with reliable partners.

Деловые переговоры лучше проводить в послеобеденное время. – It is better to conduct business negotiations in the afternoon.

Отчёт за прошлый квартал демонстрирует стабильный рост нашего предприятия. – The report for the last quarter shows stable growth for our company.

В нашей компании работают исключительно высококвалифицированные специалисты. – Only highly qualified specialists work in our company.

На данный момент, это место вакантно. Вы можете прислать своё резюме. – At the moment, this role is vacant. You can submit your resume.
Наша компания занимает лидирующую позицию на финансовом рынке. – Our company occupies a leading position in the financial market.

Зал для переговоров находится ниже этажом. – The meeting room is located one floor below.

Мы можем порекомендовать вам, обратиться к нашему Директору. Он более компетентен в данном вопросе. – We recommend that you to contact our Director. He is more competent in this matter.

Корпоратив нашей компании будет проходить 25 декабря. Начало в 19:00. – Corporate party of our company will be held on December 25th. Beginning at 19:00.

Отчёт о проделанной работе будет готов не позднее следующего понедельника. – The progress report will be ready no later than next Monday.

Вместо нашего начальника, будет присутствовать его заместитель. Он сможет ответить на все интересующие вас вопросы. – Instead of our boss, his deputy will be present. He will be able to answer all your questions.
Russian Phrases | For Your Travel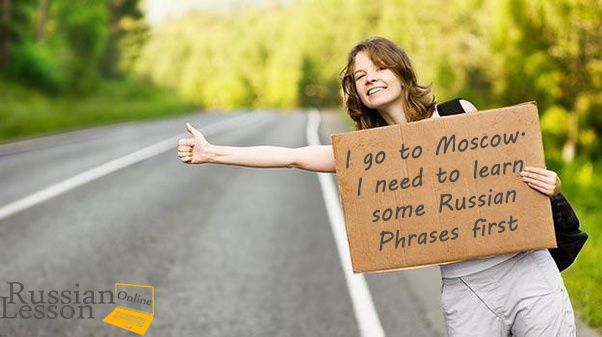 Let's imaging the situation when you already know Russian phrases from traveling terminology but you still feel that you are missing something. You know that you say it right but it doesn't feel so. Maybe it's because your brain used to speak in much more complicated way. Your native language is full different variations for similar meaning sentences and you are willing to express your thoughts in much wider perspective. This following Russian phrases list will help with traveling in Russia and former Soviet Union (FSU). When you learn those phrases and exercise them in your speech then you can feel yourself comfortable with real Russian language. Russians don't speak with simple sentences. They don't even try. They used to tell what they think in the manner they like. If you want to understand the speech better and participate more in Russian dialogue then you should memorize those phrases today.
Пожелайте нам счастливой дороги. Мы увидимся не скоро. – Wish us a happy journey. We won't see you soon.

Создаётся впечатление, что вы не знаете правильной дороги, и мы заблудились. – It seems that you do not know the right way, and we are lost.

Не облокачивайтесь на дверь вовремя движения поезда. Это опасно для жизни. – Do not lean on the door while the train is moving. It is dangerous.

Я даже боюсь представить, насколько наше путешествие будет интересным! Мы будем ехать на поезде, лететь на самолёте. Мы даже будем взбираться на гору Килиманджаро. – I'm even afraid to imagine how interesting our trip will be! We will go by train, fly by plane. We will even climb Mount Kilimanjaro.

Нужно торопиться, если хотим успеть на наш самолёт. – We must hurry if we want to catch our flight.

Мне только что сообщили, что наш рейс задерживается. – I have just found out that our flight is delayed.

Это какое-то недоразумение! Я бронировал (а) наши билеты и у меня есть этому подтверждение. – This is some kind of misunderstanding! I booked our tickets and I have confirmation.

Здравствуйте! Мы бронировали номер в вашем отеле на двоих. На имя Владимир. – Hello! We booked a room in your hotel for two. Addressed to Vladimir.

У меня есть права на вождение автомобилем, и я прекрасно езжу за рулём. – I have a driver license, and I am a good driver.
Очень хочется взять автомобиль в аренду, когда мы будем в Москве. – I really want to rent a car when we are in Moscow.

Подскажите, пожалуйста, как пройти до ближайшей больницы? – Can you please tell me how to get to the nearest hospital?

Сколько стоит билет до Москвы на автобусе? – How much does a ticket to Moscow cost by bus?

Билет на этот рейс стоит 300 рублей в одну сторону, но вам лучше сразу купить билет обратно. Билетов может больше не быть. – A ticket for this flight costs 3,000 rubles one way, but you better buy round trip tickets since tickets can run out.

Наш гид предлагает очень увлекательную экскурсию. Думаю, нам стоит туда поехать. – Our guide offers a very exciting excursion. I think we should go.

Ближайшая круглосуточная аптека находиться в 2-х (двух) километрах отсюда. – The nearest 24 hours pharmacy is located 2 (two) kilometers away.
Russian Phrases | Information and Alert Signs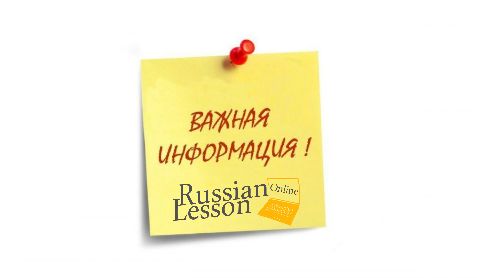 Важная информация! – or – Important information! Yes, it's something you need for your trip to Russia. What do you need to know when you arrive in Russia? Be able to find your way around and get to any destination. With this list of Russian traveling phrases, you will expand your Russian vocabulary and cover essential gaps of the speaking skills. You will be able to go to the theater or restaurant and even enjoy your day in the woods. Information signs won't be complicated for you if you learn those phrases by heart.
Внимание! Здесь курение и распивание спиртных напитков строго запрещено. – Attention! Smoking and drinking alcohol is strictly prohibited here.

Будьте осторожны! Скользкая дорога. – Be careful! Slippy road.

Заплывать за буйки запрещено. Опасно для жизни. – Swimming for buoys is prohibited. Life threatening.

График работы нашего заведения 24 часа в сутки и 7 дней в неделю (24/7 – круглосуточно). – The opening hours of our institution is 24 hours a day and 7 days a week (24/7 – around the clock).

Вход со своими спиртными напитками, строго запрещено. – Entry with your own alcohol drinks is strictly prohibited.

Просим вас отключить мобильные устройства и соблюдать тишину. – We ask you to turn off mobile devices and keep silent.

Администрация заведения не несёт ответственности за сохранность ваших ценных вещей. – The administration of the institution is not responsible for the safety of your valuables.

Оплата за товары и услуги принимается исключительно в национальной валюте. – Payment for goods and services is accepted exclusively in national currency.

Приём врача проводиться исключительно по предварительной записи. – Seeing the doctor is by appointment only.
Номер телефона, по которому можно до нас дозвониться, находится в верхнем углу нашего сайта. – The telephone number where you can reach us is in the top corner of our site.

Переход через дорогу, осуществляется исключительно через пешеходный мост. – Use the pedestrian bridge to cross the road.

Согласно закону Российской Федерации, продажа алкоголя после 22:00 строго запрещена. – According to the Law of the Russian Federation, the sale of alcohol after 22:00 is strictly prohibited.

Незнание закона – не освобождает от ответственности. – Ignorance of the law is not an excuse.

Запрещено разведение костров в парках и лесных зонах. – It is forbidden to start fires in parks and forest areas.

Вождение транспортного средства в не трезвом состоянии карается лишением прав на срок до 5 лет. – Drunk driving is punishable by 5 years license suspension.
Russian Phrases | Compliments and Kind words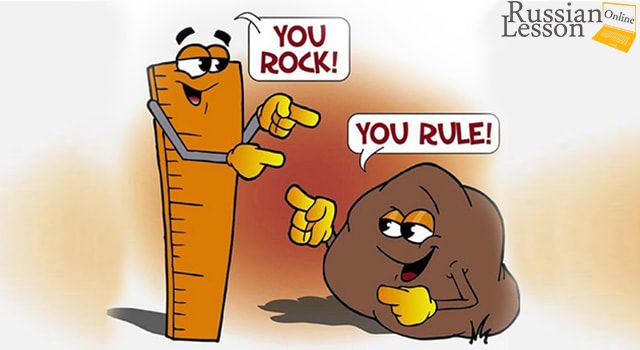 Compliments and kind words are the most interesting and important part of conversations. Our lives are built with nice and pleasant things. We start relationships and develop love feelings only because of the compliment phrases. Russian language is full of different combinations of such phrases. You can learn some of them not only because of new vocabulary but also for friendship and love improvements. To be kind and genuine person is something you want to be known for. Russian phrases below will show you how. Learn these phrases by heart and we are confident you'll need them soon.
Мне кажется, что этот костюм вам к лицу. – It seems to me that this suit fits you well.

Я всегда был (а) не равнодушный к этому виду цветов. Они изумительны. – I have always like this kind of flowers. They are amazing.

Отличная новость! Я с нетерпением жду вашего приезда. – Great news! I look forward to your arrival.

Я чуть с ума не сошёл (сошла) в поисках правильного ответа. Вы просто гений! Вы мне очень помогли. – I almost went crazy searching for the right answer. You are such a genius! You helped me a lot.

У вас очень красивый дом! Я не могу налюбоваться! – You have a very beautiful house! I can't take my eyes off it!

Благодарю за ваше любопытство. – Thank you for your curiosity.

Ты шикарно выглядишь, моя дорогая! Просто – восхитительно! – You look gorgeous, my dear! Just – amazing!

Это платье превосходно подчёркивает вашу талию. – This dress perfectly highlights your waist.

В этом наряде, вы неотразимы. – In this dress, you look irresistible.
У вас очень приятный голос. – You have a very nice voice.

В этом пальто вы выглядите очень презентабельно. – In this coat you look very nice.

Вы все время заставляете меня улыбаться. – You make me smile all the time.

Я уверен (а), что вы будете отличным отцом (матерью). – I am sure that you will be a great father (mother).

Мадам, ваш внутренний мир также красив, как и вы сами. – Madam, your thoughts are as beautiful as you are.

Молодой человек, вы очень внимательный и обходительный. – Young man, you are very attentive and courteous.

От вас исходит очень приятный запах. Это новые духи? – You smell very nice. . Is this a new perfume?

Ты самый надёжный друг на земле. – You are the most reliable friend on earth.

Ты для меня очень родной (родная) и самый любимый (любимая) человек во вселенной. – You are a very dear and most beloved (favorite) person for me in the universe.

Я просто удивлён (а) насколько ты пунктуальный. – I am just surprised how punctual you are.

Я просто уверен (а), что тебе можно поручать самые ответственные дела. – I'm just sure that you can be trusted.
Russian phrases | Recourse and question

We value someone's help, especially when we really need it. For most people, it's not considered a bad thing to ask for help, but it's asked in a more cordial way. Russians usually expect to hear nice phrases when they're asked to do something. It's normal to add some nice words to your conversation when you need someone to do a favor for you. Close the window, pass something to you or simply explain more deeply the subject of the conversation. Do you think you need to know how to say it in Russian? If yes, then learn the next list of compiled Russian phrases and train yourself to use it every time you speak to Russian speaking people. Need help, just simply ask. Russians would rather do it for you if they hear the effort from your side to speak Russian in such nice and polite way.
Не могли бы вы прикрыть окно? Мне очень дует из него. – Could you close the window? It is really windy.

Мне бы очень хотелось поговорить с вами откровенно. Мы можем это сделать? – I would really like to talk to you frankly. Can we do it?

Не могли бы вы говорить помедленнее? Я не успеваю за вами. – Could you speak more slowly? I can't understand you.

К сожалению, мне неудобно говорить по телефону в данный момент. Вы не могли бы перезвонить немного позже? – Unfortunately, it's not convenient for me to talk on the phone at the moment. Could you call back a little later?

Объясните мне сложившуюся ситуацию? Я постараюсь вам помочь. – Explain the situation to me? I will try to help you.

Мужчина, помогите мне, пожалуйста, донести эти тяжёлые сумки до моего дома. – Man, help me, please bring these heavy bags to my house.

Будьте так добры, подскажите, который час? – Be so kind, tell me what time it is?

У меня сейчас заняты руки, не могли бы вы придержать дверь? – My hands are full right now, could you hold the door?

Не будет ли вам сложно провести меня домой? Я живу неподалёку. – Wouldn't it be hard for you to take me home? I live nearby.
Мне кажется, что вы знаете, что тут произошло. Возможно, вы сможете нам рассказать всё в деталях? – It seems to me that you know what happened here. Perhaps you can tell us everything in the details?

Будьте бдительны и не оставляйте несовершеннолетних детей без присмотра взрослых. – Be alert and do not leave minors unattended by adults.

Если вас не затруднит, подайте чайную ложку. – If you do not mind, pass me a teaspoon.

Я очень вас прошу перезвонить по номеру… – Please call back the number …

Вам не будет трудно подать мне зелёную книгу на четвёртой (4-ой) полке? – Could you get me the green book on the fourth (4th) shelf?

Я совершенно не говорю по-русски. Можете перевести этот текст для меня? – I do not speak Russian at all. Can you translate this text for me?